How insurance agents can work from home
A physical office location has pros and cons. The costs of rent, utilities, and furniture add up. These days, fewer customers come in to make payments and more customers are comfortable working with their agent through phone and email. Long before the COVID-19 virus hit, Firefly has enabled new agents to run their agency from home. We know that starting your own agency is challenging, so if you can reduce your overhead costs without reducing your effectiveness, you will increase your chances of success.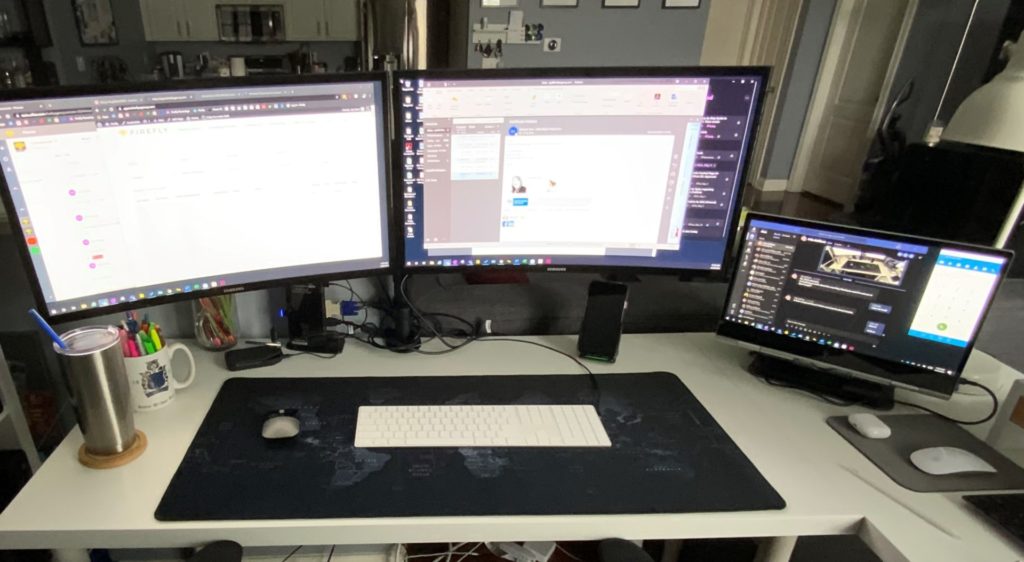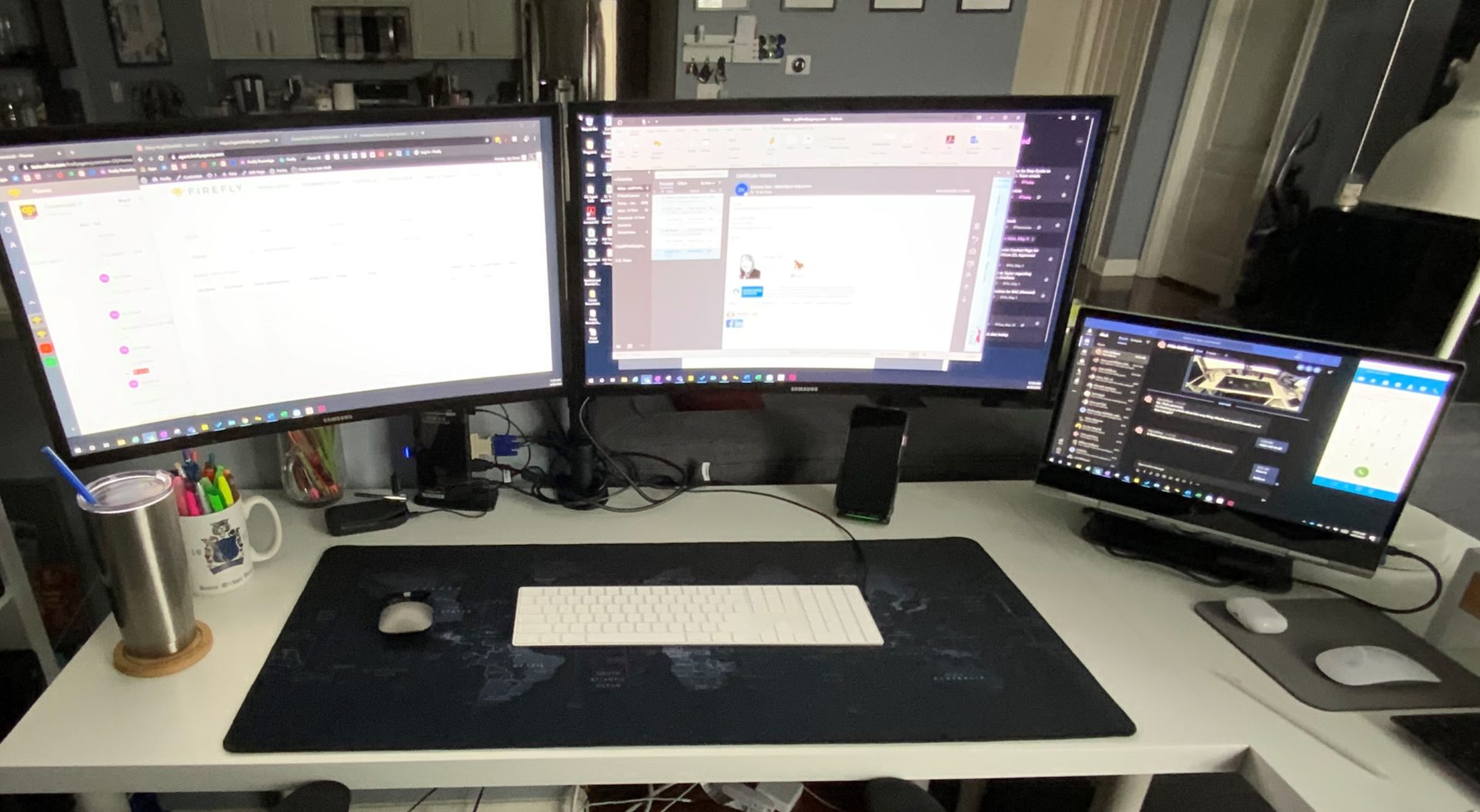 At the time of writing this article, almost the entire Firefly team has been working from home for seven weeks. We prepared ourselves by getting the right tools (which are described below) and practicing with them in the office and at home so we could do it over the long term.
In case you're wondering how you could run your insurance agency from home, here are some of the tools that we're using. (All product links will open in a new browser tab.)
SET UP AN EFFECTIVE WORKSTATION:
Start with a laptop computer
A good computer is the foundation of your setup. But if your computer is a tower that's stuck in your office, it's very difficult to bring it home. Yes, you could set up software on it to connect to your office computer from home, but we've found that if you have the same computer wherever you are, you work more productively. That's why everyone at our home office uses a laptop.
As you can see in the photo above, of Jay's home workstation, we like the kind of laptop that allows you to flip the keyboard around behind the screen. This gives you extra space on your desk. In case you noticed, his laptop is also elevated on a small stand, which frees up additional desk space.
Get an external keyboard and mouse
Using an external keyboard and mouse makes working on your laptop much more comfortable. Here are a few of our favorites:
Add external monitors
We can't emphasize enough how much it helps to have multiple monitors. Laptop screens are portable – but small. At Firefly's main office, everyone also has two external monitors connected to that laptop at the office, and at least one external monitor at home, for when they're working there.
If you've never added external monitors, you are missing out! One study showed that adding a second monitor increases productivity by 25%, and three monitors increased it by 35%. But we don't need a study to know tell you that when you've gotten used to three monitors and then have to work on just one, you can tell that everything takes longer to do.
We've found that 27 inch monitors are the best value. They make it easy to see everything, and you can usually find them from $115 to $150 each. Shopping around can save you lots of money. Best Buy and Microcenter often have better prices than Amazon.
Here are two articles to help you set up multiple monitors:
Easily connect everything with a docking station
Most laptops have a few USB ports to connect a keyboard or mouse, and they often have an HDMI port so you can attach one monitor directly. But to make it super simple, we use this USB docking station. It lets us easily connect two external monitors, wired Internet at work (and at home if there's a CAT 5 cable nearby), and anything else that connects with USB. Only one USB cable goes into your laptop from the docking station, so it's easy to open your computer, connect it to the hub, and get to work!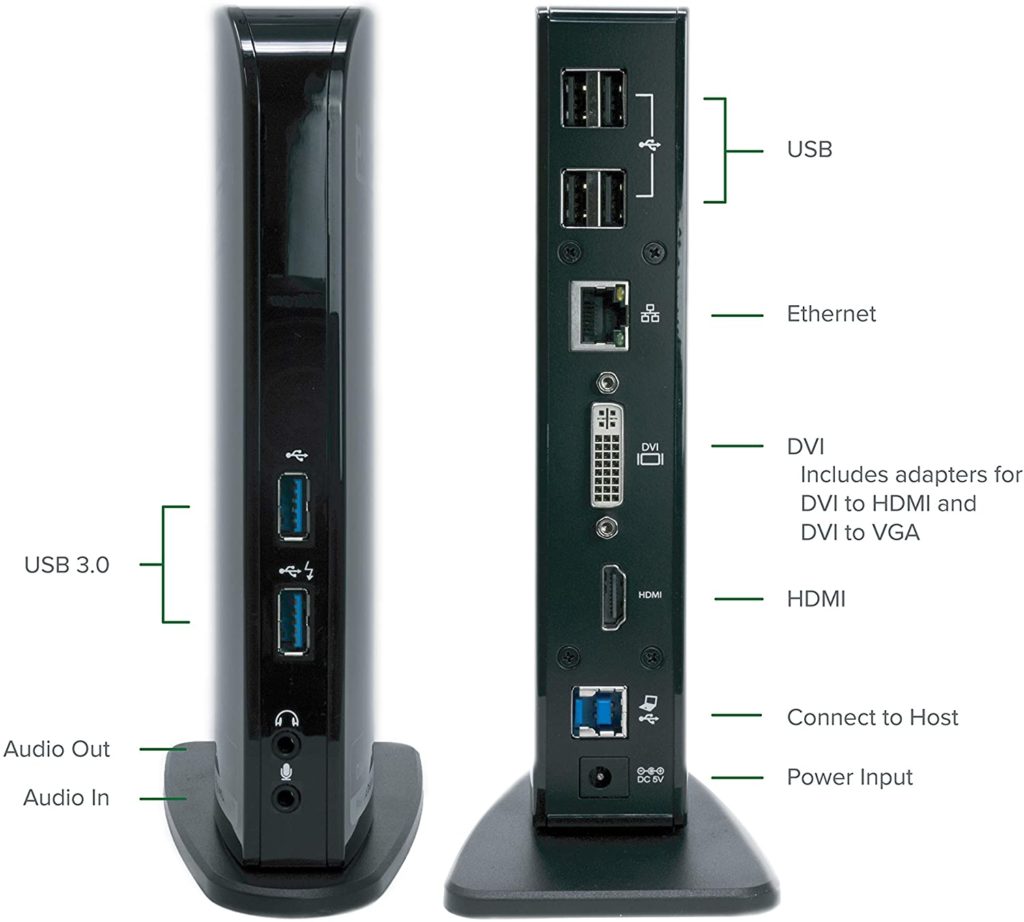 Don't run out of plugs
You'll need more plugs at home than you have in one outlet, so a surge protector/power strip is also a must-have.
COMMUNICATE WITH COWORKERS:
With your computer ready to go, you're almost ready to get to work. But you won't be much use unless you can communicate with other people at your agency, and with your customers!
Work with your team
Microsoft Teams is free program that lets you send chat messages, share files, and have audio and video calls with anyone on your team. It's also very handy when you need to share your screen, or see a coworker's screen to work on something together.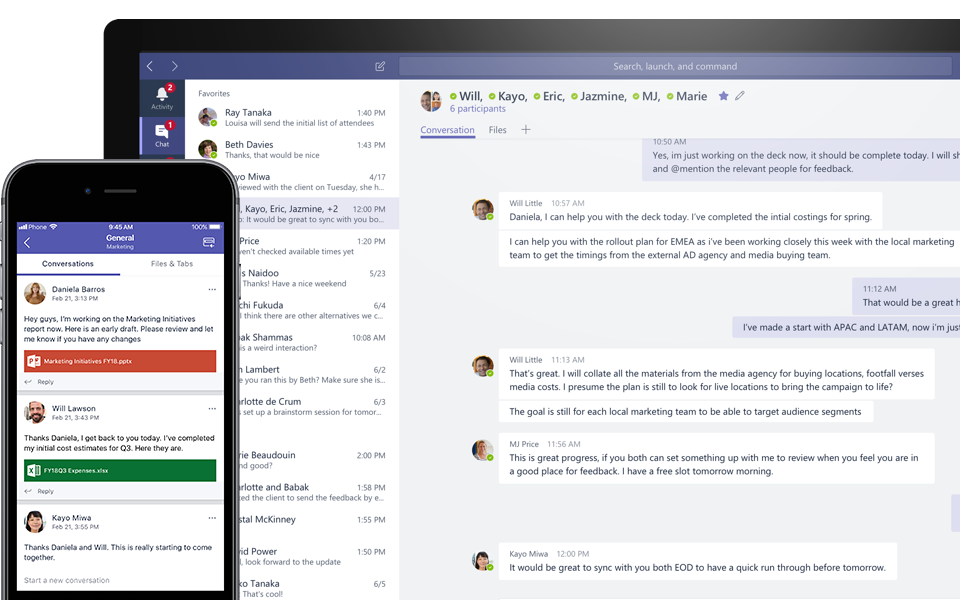 Another very popular service for intra-office chat and collaboration is Slack.
Share files and folders
You need a way to share information with your team. Of course, your management system is the best place to store customer-specific information. (We use EZLynx for this.) But you also have letters, documents, presentations, spreadsheets, and other things that you need to be able to work on with your coworkers.
Rather than emailing files back and forth, or accessing files on a physical server using a VPN (which is complicated) we love using Microsoft 365.
You can get subscriptions for $5- to $20 per month, per user. They include things that you'd expect, like the latest versions of Outlook, Word, Excel, and other programs. You can also easily share calendars with your coworkers, and access all of these things on your mobile device.
But you also get OneDrive and SharePoint. The most helpful thing is that you can save files in the cloud, and anyone in your team can access them and work on them – even at the same time, in the same document! No VPN is needed, with all of its complexity.

TALK WITH YOUR CUSTOMERS:
Use the same phone numbers whether at the office or at home
Your customers won't care where you're working from if they can reach you by phone. At Firefly we use a voice-over-Internet phone service. (You may see this abbreviated as VOIP if you want to research it online.) At the office, we have physical phones on our desks, but we can also use a software phone to make and receive calls on our computers. (See the nearby image.) We can also use an Android or Apple smartphone app to take and make calls on our mobile phones.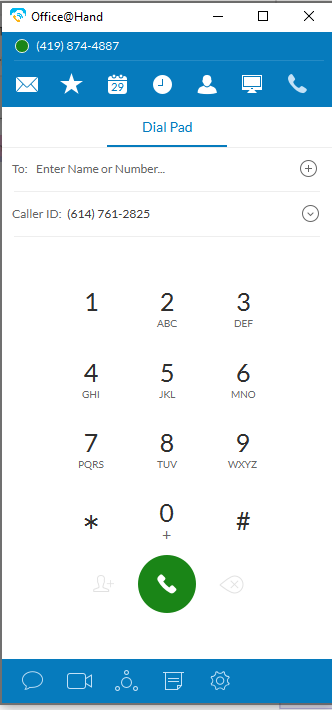 The important thing to our customers is that they call the same number as usual and we take the calls wherever we are. Our outbound caller ID shows our office number too. 
We use AT&T Office@Hand, but there are many companies that offer this kind of phone service, so you should check around.
If you don't have any staff, you might get by with a service like Google Voice. It gives you an additional phone number that rings to your own phone (a landline or mobile phone).
Sound your best
If you use a VOIP phone system from home, your calls will run through your computer, and you want to sound your best. Your laptop's built-in microphone and speakers might be okay, but a quality headset will make you sound amazing.
These two headsets work with software phones on your computer, and we've had success with both:
Wired – The audio quality on this is amazing and the cost is very low.
Wireless – Honestly, we've had mixed results with these out of the box. Two haven't charged, and two sounded crackly at first. But the ones that worked (or that were sent to replace the bad ones) sound incredible. With free returns, we think they're worth trying.
Final thoughts about making this work
To us, one thing that makes working from home both possible and productive for us is this: We use the same hardware, software, and tools no matter where we happen to be sitting. We unpack our laptop, plug it into the docking station, and we're off!
We can focus on the work we're doing with each other as a team, and also with our wonderful agents and customers. We don't have to stop and try to remember how to make a call or access an important file.
This has worked for us, and we hope the information here helps you, too.