We are currently in Alabama, Arizona, Arkansas, Georgia, Illinois, Indiana, Iowa, Kansas, Kentucky, Michigan, Minnesota, Missouri, Nebraska, New Mexico, North Carolina, Ohio, Pennsylvania, South Carolina, Tennessee, Texas, Utah, Virginia, West Virginia, and Wisconsin.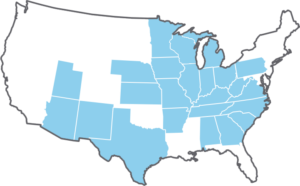 IS THERE AN UP FRONT COST TO GET STARTED?
No. This is one benefit of Firefly not being a franchise, aggregator, or cluster.
HOW QUICKLY CAN I START WRITING BUSINESS?
You will need to complete appointment forms with your new carriers and get set up with Firefly's tools and management system. You'll also begin regular online training sessions with our staff. Most agents can start writing within the first four-to-six weeks.
HOW MANY CARRIERS WILL I BE ABLE TO WRITE?
DO I HAVE PRODUCTION REQUIREMENTS WITH THE CARRIERS I AM APPOINTED WITH?
If you worked with an aggregator, you would have production requirements. But because you're part of our agency, you do not have production requirements.
DO I HAVE PRODUCTION REQUIREMENTS WITH FIREFLY AS A WHOLE?
No.  The agents that fit Firefly are driven enough on their own.  Our model is to help you feel as independent as possible.  You continue to set your goals as you see fit.  We'll do our best to help you reach them.
DO I HAVE BINDING AUTHORITY?
Yes. With an aggregator you get nebulous access. With us you get direct appointments, and you can bind coverage.
HOW OFTEN ARE COMMISSIONS PAID?
Monthly, by ACH deposit to your account.
CAN OUR AGENCY KEEP ITS NAME?
In a word, Yes. We understand you have worked hard to establish credibility and a strong reputation and your name is symbolic of that. Many of our agents have found it enhances their brand and marketing to use Firefly's name with theirs. The addition of our name helps co-funded marketing more effective. We can also link to each other's websites which will help your search engine optimization.
WHO OWNS THE BUSINESS THAT I WRITE?
​CAN I HAVE MY OWN P&C CARRIER APPOINTMENTS OUTSIDE OF FIREFLY?
Our agents get direct appointments with all of their carriers, without production requirements. Carriers allow this, in part, because our agents write all of their P&C insurance business through Firefly. This article explains in detail why this matters.
If you come to find that you really like the Firefly opportunity, and you have some premium with your own carriers, here's good news: You can work with us to roll or AOR your current policies into Firefly. Sometimes you'll get paid more (or get a bonus) from our carriers. Specifics vary by situation, so let's talk about how this might work for you.
ARE YOU CONSIDERING GETTING MORE CARRIERS?
Yes.  We are very pleased and confident in our carrier's abilities in any state.  Of course we would always consider a partnership that would add value to our agents and customers.