What makes Firefly Insurance Agency different?
There are a lot of companies that can get agents appointed with insurance carriers. You may be wondering what makes Firefly different from those companies. And our answer is…
"We're an Agency, not an Aggregator!"
The majority of the companies helping agents get appointed are aggregators, but Firefly is an actual agency with locations across the country.
The agency structure is the first and largest difference between Firefly and other distribution models.  The following six sub-categories are areas where Firefly excels compared to our competitors.  Our agency status makes these advantages possible.
1. Direct Appointments
Binding Authority – With Firefly, you don't just get "access" to our carrier lineup.  Instead, you get directly appointed  with all of our carriers in your state. When we ask you to fill out appointment paperwork, it is done with the expectation that you will be appointed.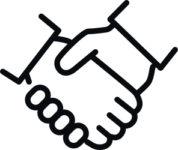 You'll also have binding authority with each carrier. This keeps you in control of the quoting process so that you can move as quickly as possible on an account.
Easy Commissions – Along with having binding authority with all of your Firefly carriers, you'll receive the same high percentage split of the carrier's gross commission regardless of the amount of premium you have with any given carrier.
This matters because when aggregators give you "access" to carriers, you usually get a much lower commission split when you write business with those companies.
But with Firefly's high commission split with every carrier, you can do what is best for your client without being tempted to place business with certain carriers in order to get paid more.
What a relief—for both you and your customers!
2. No Production Requirements
No Pressure – Your ability to write with your Firefly carriers doesn't depend on your own production. Instead, our agency's production and premium volume fulfills all production requirements.  As mentioned before, this means you will not have to steer business to a carrier that may not be best suited to your client.  Put them where they fit best, without a second thought!
What if you could retire in place? –   Without production requirements, there is less need and even less desire for agents to retire.  Instead, Firefly agents can move their accounts into carrier service centers, which enables them to essentially annuitize their book.  If you would like to learn more about this, please ask us.
3. Quick Start
Going independent is a HUGE transition.  We have helped hundreds of agents do it, and we can help you do it, too.  We will get you set up with a comparative rater, errors and omissions insurance, and an awesome management system.
Your appointment process begins right after you sign your contract. You'll watch your carrier appointments stack up within 30-45 days, which means you can start selling instead of spending time trying to convince carriers to appoint you.
If you were on your own, the inevitable delay of getting carrier appointments in place would stall your ability to get your agency off the ground. No carrier appointments means no revenue. That's why our process starts there.
Our fast-start process let's you start selling and making money as soon as possible. In the video below, you'll see why one of our agents was smiling after only three months. Firefly's fast start is the closest thing you can find to buying an agency in a box.
4. One on One Training
You may wonder how you'll learn to quote and write with so many carriers, not to mention learning the comparative rater and management system.  We can tell you from experience that while there is a lot to learn, you can do it.  We have a one on one training program to help you get comfortable with the carriers' systems and underwriting rules.
Your training is done with screen sharing. It doesn't matter where you live in the country. We'll walk you through the quoting and issuing process. Screen by screen. It's better than being with us in person!
We also know that in a changing industry, the training never stops.  If you have questions on underwriting, coverage, or carrier websites, our staff is standing by to help you and keep you moving forward.
Our agency structure gives us incentive to help you grow!
5. Low Overhead Cost
Most agents who start an agency have a little money saved to get them through the lean starting period.  We know that the longer your savings can last, the more likely you are to succeed.  That's why we have worked hard to keep your start-up costs low. and to not charge you fees.
You don't have to pay a big buy-in or franchise fee to get you started.  If you have some money, spend it on marketing.  Then we'll both grow!
You are responsible for the cost of your errors and omissions insurance, management system, and comparative rater.  You get these things through us because we have leveraged our agency's size to get substantial savings on those costs.  We don't make money off selling these to you; we make money off of your growth.
We believe you'll find working with Firefly to be the most cost- effective way to start a location for yourself.
6. No Time Commitment
Unlike the aggregators with multi-year contracts, your contract with us is month to month.  If after a period of time you determine Firefly is not quite what you expected, you can terminate our agreement with 30 days written notice.
Most aggregators and distribution models will have time commitments anywhere from 1-15 years.  Firefly makes it easy for an agent to leave.  We don't want you to be "stuck" in an undesirable situation when it comes to your career decision.  Giving you an easy way out also keeps us motivated to do our best to help you succeed.
These are the main differences between working with an aggregator and the Firefly Agency. To learn more about the different ways to get started as an independent agent and how they compare to Firefly's model, read about the different ways you could start an independent insurance agency.